Water distillers
The purpose of the water distiller is to purify tap water from chemical compounds, contaminants and bacteria. The water distiller produces thermal distillation of liquid.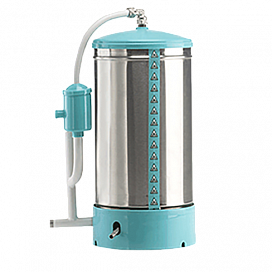 The principle of operation of the water distiller:
Water in a special tank is heated to a boil.

Steam enters the condenser.

Liquid re-forms from the vapor at a lower temperature.

All impurities remain at the bottom of the evaporation chamber.

The distillate is collected in a special container.
A water purifier has numerous application options. Distilled water is required in areas such as:
Medicine and pharmacy: for sterilization of tools, treatment of wounds and preparation of medicines.

Laboratory activities: to obtain reagents in scientific and educational laboratories.

Industry: in the production of cosmetics, food products, various vehicle maintenance products.

Household sphere: for heating systems, household appliances; for cooking and drinking (after mineralization).

Aquaristics: to regulate water quality for fish.
Knowing what the water distiller is intended for, you can decide on the most suitable model. To do this, it is necessary to understand how much purified water is required and to provide a place for locating and connecting the distiller.
In an electrical apparatus, water heating and refrigerant supply are performed using an electric current.
This is a popular and common type of water distiller.
The appearance of the device varies depending on the model range and the manufacturer's design solutions.
However, the following device units are mandatory:
distillation still (generally made of alloy steel). The shape: cylinder, cube or parallelepiped;

heating elements, electrodes (devices for heating and evaporating water);

refrigerator or heat exchanger (for supplying a refrigerant that causes vapor condensation);

water supply tubes (for draining the coolant);

electrical panel (for industrial and medical water distillers).
Moreover, electric distillers may differ in the way they are mounted – on the floor or on the wall. For the latter, the kit includes special mounts and brackets.
For more detailed information about the equipment, you can contact us using any of the methods specified in the "Contacts"
To "Contacts"