Disinfection chambers
Disinfection chambers are equipment used to disinfect clothes, bed linen, dressings and footwear, and are the most effective and reliable method of disinfecting such items.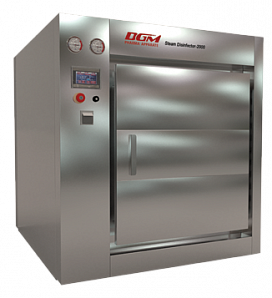 They are classified into steam, steam-air, steam-formalin, gas, hot-air and combined and differ by the disinfectant used. Moreover, chambers are subdivided into stationary, which are used in medical institutions, and mobile, which are used in the field and in epidemic foci.
The disinfection technology of steam disinfection chambers involves the use of saturated water vapor of atmospheric or increased pressure supplied to displace air from the chamber. The temperature inside the steam chamber reaches 100 °C or higher (depending on the steam pressure). Vacuum chambers operate at sub-atmospheric pressure due to the presence of a vacuum pump.
The treatment cycle in the disinfection chamber includes a sequence of stages: warming up the chamber (for steam disinfections, the heating temperature according to the external thermometer is 80 °C), filling it with products, drying, increasing the temperature and pressure to certain indicators, maintaining the exposure depending on the disinfecting agents used, reducing the pressure to normal atmospheric pressure (in steam chambers), ventilation and unloading the items.
There are certain requirements to the premises where the disinfection chamber is installed. The premises must be divided into two isolated areas. The premises intended for the acceptance and loading of items for disinfection are called the loading (non-clean) area. It contains racks for sorting things, personal lockers for overalls and personal clothing of employees, washstands, etc. The premises where the chamber is unloaded are called the unloading (clean) area, in which all devices for controlling the chamber operation are located. Things are distributed in the chamber evenly over the entire working area. The loading rates and the disinfection temperature are determined depending on the type of infection, the materials of the items disinfected (wool, cotton, fur, etc.), the disinfecting agent, etc.
Pharmstandard-Medtechnika supplies steam disinfection chambers of the Swiss manufacturer DGM. The DGM 2000 chamber with a chamber volume of 2,500 l comes complete with loading carts, a table-cart with shelves, a compressor, a steam generator and a set of spare parts. At the customer's request, possible disinfection steam chambers DGM-3000 and DGM-5000 (volumes of 3000 l and 5000 l) can be supplied.
For more detailed information about the equipment, you can contact us using any of the methods specified in the "Contacts"
To "Contacts"