Disinfection and washing machines
Disinfection and washing machines are indispensable equipment for sterilization departments of various types. Depending on the needs of a particular medical institution, there are 2 options: pass-through and non-pass-through.
Modern disinfection and washing machine has an ergonomic design, is easy to operate and has a high degree of reliability. It is designed for washing and subsequent disinfection of dental, ophthalmological and surgical tools, dairy kitchen utensils, laboratory glass, medical shoes, etc.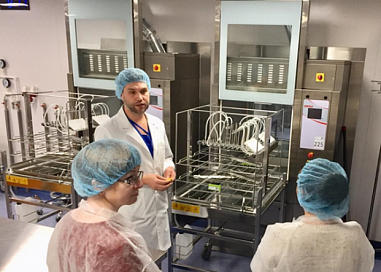 Modern units fully automate the process of washing and disinfection in healthcare facilities and help customize programs for the specific needs of departments and fully control all processes. This equipment comes with a drying system, which makes it possible to immediately package the tools and process them in sterilizers. The use of washing and disinfecting machines is an indispensable process for any medical institution. Tools are treated using such devices. The device can be used both in large general clinics and in institutions of a narrow profile.
The devices are designed for the following operations:
thorough cleaning of tools after medical procedures, the devices are cleaned during processing and cleaning;

drying – active drying is used, which safely removes excess moisture from tools and prevents the risk of corrosion;

the devices work automatically, so all parts are cleaned thoroughly;

special loading baskets reduce the risk of damage to tools during their treatment.
When choosing a model, the user needs to determine the desired size, depending on the volume of materials used.
Disinfection and washing equipment may include:
The principle of operation of washing and disinfection units
Operation of units is simple, so the use requires no previous experience. The principle of operation involves:
cleaning – after loading, the materials are treated with a stream of cold water which makes it possible to remove all large particles of dirt;

cleaning with alkaline substances – it is necessary for a more thorough treatment of materials, the use of special detergents makes it possible to thoroughly break down contaminants without any harmful plaque left on metal products;

neutralization – at this stage, residues of alkaline detergents are thoroughly removed;

disinfection – at this stage, the materials are rinsed and disinfected with hot water, the disinfection period is set automatically;

drying – the last treatment stage of materials, the remaining water and air are removed. After the products have been treated, they can be used for their intended purpose.
For more detailed information about the equipment, you can contact us using any of the methods specified in the "Contacts"
To "Contacts"