Water collectors
Currently, modern medicine is difficult to imagine without such a thing as purified distilled water. Distilled water is widely used in the preparation of medicines, injections and other medicines. In order for it to retain all its properties and sterile qualities, special collectors are used in medicine.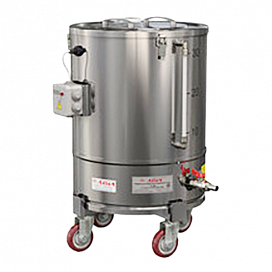 Materials for making collectors
A container for distilled water must be made of a material that would keep it 100 percent sterile. There are only two such materials: stainless steel and glass. Steel containers are in great demand among medical workers. Firstly, such containers are resistant to deformation from drops or impacts. Secondly, steel reliably retains all its qualities, in particular its sterility.
When using a steel water collector, strict rules must be followed for:
labelling the collector

marking the case with "Cleaned" or "For injection" labels
Collector form
Collectors for distilled water are in the form of a tank, which includes:
triggered device when the water level is exceeded

bactericidal cleaning filter

valve for disassembly
The collector container is closed with a hermetic sterile lid, which has two openings.
Water storage conditions in the collector
Water storage in the collector has a strict time limit:
up to 24 hours for injections

up to 36 hours treated
Water collector characteristics
Critical parts are made of high quality steel with the parameters 12X18H10T (AISI 321). For the convenience of water collection, the tank is connected to a distiller. There is a movable stand built in the collector mechanism. This mechanism is used to install and move the water collector. The system is equipped with four roller wheels, one of which serves as a brake. This facilitates the work of medical personnel operating the collector when moving or stopping.
This type of configuration makes it possible to move the collector for storing purified water at a speed of up to 5 km/h. It must not be filled with water and the walking surface must be horizontal and hard. In conclusion, it should be added that the collector is filled using tubes (glass, silicone, polypropylene, etc.). They reliably connect the collector with the refrigerating chamber.
For more detailed information about the equipment, you can contact us using any of the methods specified in the "Contacts"
To "Contacts"