Shredders
The shredder of medical waste is a compact powerful unit that makes it possible to grind a large amount of medical waste of classes B and C disinfected using the apparatus method for a minimum period of time.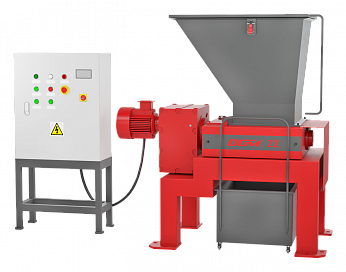 This equipment is used for the destruction of syringes, probes, test tubes, ampoules, needles, scalpels, razors, dressings, paper and rubber products, etc. A modern medical waste shredder can reduce the original volume of waste by up to 70 percent, depending on its type.
The medical waste shredder helps solve the task of waste modification to avoid its reuse as per SANPIN 2790-10. Using the shredder reduces the costs of medical waste management by 15–20%.
Main advantages of using a shredder for servicing medical institutions:
simplicity and reliability of operation

uninterrupted grinding process and a high level of safety (automatic knife blocking function)

recycling of medical waste of any kind

reduction in the volume of grinded products by 70%

high performance

durability of knives made of hardened high-strength steel

minimum operating costs
Types of design
By design characteristics, there are one-, two- and four-rotor shredders. Single-shaft shredders are used for the disposal of thick medical waste, while two- and four-shaft shredders are used for shredding waste of any size or hardness. Shredders are also distinguished by the shape of knives and the way of functioning (hydraulic and electrical).
When choosing a shredder for medical waste, it is necessary to consider the power, capacity, dimensions, noise level and the shredder purpose.
The competitive advantage of medical waste shredders is the system of automatic knife locking for operational safety, as well as an automatic knife reverse system for uninterrupted shredding of waste during the cycle.
Another type of shredders is a hydraulic press, which is a medical waste destructor. For 30 seconds, the unit compacts medical waste of classes B and C disinfected using the apparatus method and reduces its volume by 3:1. The press can also be used after the shredder to reduce the volume of shredded waste.
For more detailed information about the equipment, you can contact us using any of the methods specified in the "Contacts"
To "Contacts"