Steam sterilizers
Sterilization of medical equipment is a procedure for sanitary and hygienic treatment of devices, which is extremely important and necessary in all medical institutions. Devices that come into contact with the wound surface, injectable drugs and blood should be sterilized. In addition, some medical tools and certain types of diagnostic equipment, which, when used, contact mucous membranes and cause damage to them, are subject to mandatory sterilization. Currently, the most common type of sterilization is steam treatment.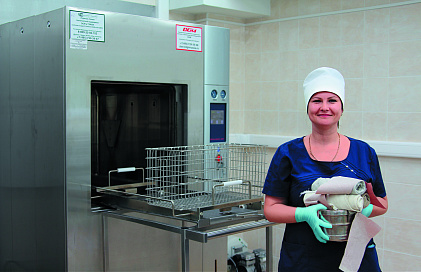 Saturated water vapor under overpressure is used as a sterilizing agent in the steam sterilization method. Sterilization is carried out in a steam sterilizer. The principle of operation of the steam sterilizer (autoclave) is based on the high penetrating power of heat and the destruction of pathogenic microorganisms and spores. Medical products made of rubber, metals, glass, ligature suture materials, textiles and solutions are sterilized in a medical autoclave. Depending on the device material, the following modes of the steam sterilizer are used for treatment:
1) 2 atm – 132 °С – 20 min – recommended for products made of textile materials, corrosion-resistant metal, glass;
2) 1.1 atm – 120 °C – 45 min – recommended for products made of latex and certain types of polymeric materials or rubber (catheters, gloves, probes).
The steam sterilizer can be used in medical institutions of various profiles, it is ideally suited for Central Sterilization Departments (CSD), sterilization rooms in hospital departments, as well as pharmacies and laboratories. The steam autoclave can be used in pharmaceutical and biological enterprises, as well as in other industries.
Pharmstandard-Medtechnika LLC presents TZMOI and DGM medical steam sterilizers for steam sterilization of a complete list of medical products, fully complying with European and international standards. The model range includes horizontal and vertical steam sterilizers with various chamber volumes from 100 to 800 liters, as well as automatic steam sterilizers produced by Kasimov Instrument Plant.
The process of sterilization of medical devices is fully automatic. Each medical sterilizer for medical tools has a large, bright, multi-color LCD screen for easy readability. The screen displays the current sterilization parameters for tools, products and solutions, as well as the treatment stage. The supplied DGM AND equipment intended for the sterilization of medical tools has a reduced energy consumption. Its use helps reduce the costs of health care providers.
There are pass-through and non-pass-through versions of horizontal sterilizers of medical devices. The equipment has a vertically sliding door, which saves space in the area for loading / unloading instruments and medical devices for sterilization.
The sterilizer chamber, steam generator and jacket are made of AISI 316L stainless steel in accordance with European standards. Medical tools, dishes, textiles, rubber products, equipment and solutions are sterilized according to 15 preset programs. They make it possible to change the duration and temperature of treatment, drying and cooling processes. In addition, there are two preinstalled service programs: the sterilizer working chamber tightness test and the Bowie-Dick test.
The equipment has a system of economical water consumption during the sterilization process, as well as an automatic error indication system with displaying messages. The tools treatment parameters can be output to the built-in printer.
For more detailed information about the equipment, you can contact us using any of the methods specified in the "Contacts"
To "Contacts"