Drying cabinets for surgical instruments
Drying cabinets are a process equipment for drying and sterilizing medical and laboratory equipment in hospitals, research centers, pharmaceutical production facilities. A drying cabinet serves as a convenient and practical organizer both in specialized institutions: laboratories, surgery departments, pharmacies, and in a number of narrow-profile offices: dentistry, pediatrics, ENT rooms.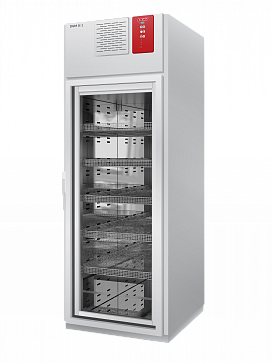 Due to the automatic circulation of hot air, the drying cabinet provides deep heat treatment of surgical instruments, as well as dishes, syringes, tools made of glass, metal, and other heat-resistant materials.
Drying cabinets, depending on the volume, can be either portable and mobile or large-scale drying complexes.
Dryers are divided into 3 categories by size:
Small-sized – starting from 20 liters and reaching 200, used in small laboratories for drying containers and sterilizing tools

Medium-sized – their volume reaches 1,000 liters, they are often used in production for drying and thermal exposure, therefore, they are supplied complete with pallets, hooks and trays

Large-sized – drying complexes of up to 8,000 liters in size, used in large industry
Materials
Materials used for drying cabinets:
corrugated sheet stainless steel – suitable for external parts of the structure

polished stainless steel sheet – can be quickly cleaned and is used for the inner walls of the drying chamber

heat-insulating material – installed between metal walls to retain heat inside the chamber and distribute it evenly

heat-resistant glass – mounted in the front door of the cabinet as a window for observing samples

polymer powder paint and anticorrosive compounds – applied to protect metal from alkalis, solvents and acids
Drying cabinets provide:
uniform temperature distribution in the working chamber

setting and regulation of temperature and time

forced air circulation in the working volume

the option to regulate the heating rate; 2 °C/min, 5 °C/min, 7 °C/min and maximum heating.
Drying cabinets have:
minimum time to switch to the operating mode

low power consumption

low weight

audible and visual signaling of temperature excess

ease of use

high operational reliability.
Pharmstandard-Medtechnika offers its customers drying cabinets for drying surgical instruments and accessories. This equipment also makes it possible to dry hollow tools such as rigid endoscopes. It may be installed in central sterilization units or local sterilization rooms.
Cabinet options include a built-in printer, an additional ninth shelf, a compressor and adapters for hollow tools, a humidity sensor and wheels for mobility when moving the cabinet.