Drying cabinets for anesthesia and respiratory equipment
A drying cabinet is an electrical heating equipment with a constant temperature of 50 to 500 degrees maintained in the chamber. It can be used in laboratories or research centers for testing, in the heavy and chemical industries, medicine to remove pathogenic microorganisms from medical instruments and maintain their sterility (in surgery, dentistry, gynecology, etc.), and pharmacy. The main purpose is long-term heating of substances at temperatures higher than ambient, and testing of samples.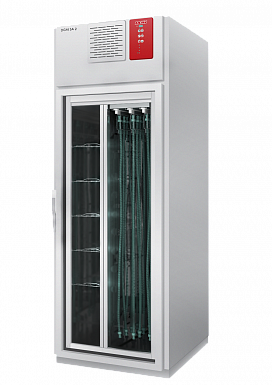 Principle of operation and features
The operations described above are possible due to the following design features of the equipment:
Thermally insulated chamber housed in a robust steel housing

Belt type heating elements on one or more sides

Fan that provides a uniform airflow and heat distribution

Steam outlet

Microprocessor-based controller for precise parameter settings
The principle of operation is to heat the air to a predetermined temperature and distribute it uniformly through the working chamber with a fan. The moisture in the sample is converted to steam when exposed to heat, which is discharged through the vent. For each material and operation, its own temperature regime is selected. For most of them, the temperature inside the chamber is 50 to 200 degrees. In industry, drying cabinets with an extended temperature range of up to 300 or even 500 °C can be used.
Characteristics of drying cabinets
The equipment is chosen taking into account the following parameters:
Operating temperature range. This is the main indicator by which the choice is made

Internal volume of the working chamber. Another important parameter, which depends on what kind of materials and objects are to be treated. For laboratories, it is enough to purchase models with small chambers, because they are used for small test samples. In industrial workshops and medical institutions, drying cabinets with large chambers are installed for working with tools and large workpieces

Mode. There can be conventional heating, vacuum, etc., depending on the research and processing methods

Thermostat type. It can be a usual one, if you do not need accuracy up to tenths of a degree, or you can opt for a programmable one with dozens of heating steps and the option to connect to a PC

Power

Time to switch to the operating mode

Temperature stability inside the chamber
For devices such as a drying cabinet, these are the main technical characteristics. Additional ones may also include:
Power supply parameters

Dimensions

Weight

An option of completing with additional equipment (reinforced hearth, viewing window, shelves, hangers, gratings, etc.)

Mass

Operation and configuration complexity
Pharmstandard-Medtechnika offers its customers drying cabinets for drying all removable parts of anesthesia and respiratory equipment, such as hoses, Ambu bags, masks, etc. Our cabinets can also be used for drying surgical instruments, including hollow ones, such as rigid endoscopes. They are installed in central sterilization units or local sterilization rooms.
The use of such cabinets reduces the cycle time in the washing machine by up to 30% by eliminating the drying phase. The turnover of medical tools increases by one third.