Impulse heat sealing machines
A heat sealing machine is a special device for sealing packaging materials (bags / roll materials) before their sterilization. The seam on the bags in these devices is formed by heating to a certain temperature with simultaneous or subsequent pressing.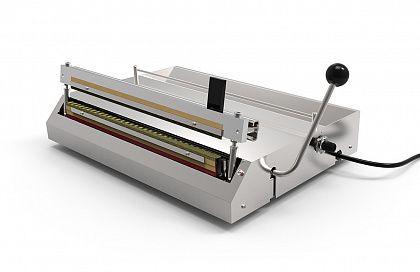 An important characteristic feature of such a seam is its air-tightness, so that no harmful microorganisms penetrate the bag after sterilization and the products inside the bag remain sterile for a longer time. The air-tightness of the seam of a heat sealing machine can be checked using a special air-tightness test, which is a special colored low viscosity liquid. Sealing of bags with heat sealing machines is more preferable than sealing with an adhesive layer (self-sealing bags).
Impulse heat sealing machines are economical and easy to use They are generally used where there is no high flow of products sterilized.
Today, rotary heat sealing machines are the most sophisticated, reliable and productive solution for high package sealing flows.
For more detailed information about the equipment, you can contact us using any of the methods specified in the "Contacts"
To "Contacts"