Disinfection and washing machines2
Washing and disinfection of medical tools is a laborious and time-consuming process. To facilitate and maintain the efficiency of the hygienic treatment process, there are special machines that simultaneously wash and disinfect medical devices.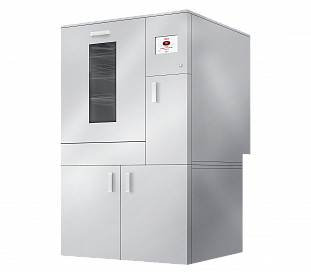 Washer & Disinfection Unit plays a special role in a modern healthcare facility. This is a functional technological device that combines two processes and successfully solves many problems of medical sanitation. Its main function is to carry out pre-washing and antibacterial treatment of instruments and materials before their sterilization, which ensures the high quality of the subsequent sterilization cycle and reduces the load on the sterilization equipment.
Disinfection and washing machines are used in almost all branches of medicine, they make it possible to treat surgical instruments, inhalation and anesthetic equipment, containers, trays, vessels, cuvettes and other hospital items, endoscopes, microinstruments, products with an internal cavity that are difficult to clean, specialized footwear for operating rooms, glass products and much more.
Tools and materials in modern disinfection and washing machines are treated using thermal (for heat-resistant materials) and thermochemical (for materials that do not tolerate high temperatures) exposure.
The tools treatment process consists of several stages:
cleaning – products are processed with a stream of cold water to remove large particles of dirt; the nozzle system removes dirt from cavities, hollows and other hard-to-reach places

cleaning with alkaline substances to break down stubborn dirt and maximize effective treatment without any plaque left

neutralization – removal of residues of alkaline detergents

disinfection – rinsing and disinfection of materials with hot water

drying – safe removal of excess moisture from tools preventing the risk of corrosion.
Modern disinfection and washing machines are equipped with a microprocessor control that controls the automatic execution of treatment cycles ensuring the ease of use for operators.
The use of disinfection and washing machines has several advantages:
reduction of labor costs and treatment time

guaranteed disinfection and reducing the likelihood of outbreaks of infections (reducing the number of microorganisms on the surface of medical instruments, accessories and materials; effective removal of blood, saliva, biological tissues and other contaminants)

economical resource consumption and reduction of energy costs, detergents and disinfectants

durability and preservation of the lifetime of tools
Pharmstandard-Medtechnika supplies disinfection and washing machines of domestic and foreign manufacturers. The supplied equipment is distinguished by its versatility (all models have a large set of widely customizable programs in the basic configuration for fine tuning to the individual needs of each user), power thanks to a high-performance circulation pump, and economy.
For more detailed information about the equipment, you can contact us using any of the methods specified in the "Contacts"
To "Contacts"